Even though in-person and web programming at Illinois Youth Corrections (IYC), St Charles has been happening during this season of Covid, the partners gathering together hasn't happened since before Covid. As a means to connect with each other, the Hope Squad recently got to meet over pizza and bowling!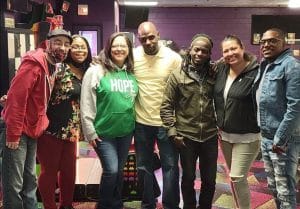 To reconnect, and share stories about the work they have been going at the juvenile prison. We'd like to reintroduce you to the team doing restorative justice programming to incarcerated youth at IYC St. Charles (from left to right):
Michael Rodriguez from Segundo Belvis Ruiz Cultural Center teaches Latin percussion classes.
Shaneika Tolliver from New Life Centers is a Reentry and Family Engagement Coordinator.
Amy Williams from New Life Centers is the Project Coordinator for IYC St Charles Project.
Joseph Mapp from Precious Blood Ministry of Reconciliation who leads Peace Circles.
Andrew Sentamu from Abantu Arts Fusion teaches Art classes
Nina Lopez from New Life Centers is the Director of Operations
David Todd from Groomfly Barbers teaches Barber workshops on Mondays
Not present in the photo are Ozivell Ecfors from Ozilamont Photography and Media Solutions who teaches theater classes and the students from the University of Chicago IOP who do the Bridge Writing Program.
They would love the continue to pray for New Life Staff, and the instructors as they mentor, teach and bring hope to the youth in the St Charles juvenile facility.