New Life Centers was awarded the Mayor's Medal of Honor last Tuesday, for our "heroic work during the pandemic". During this season, we were able to expand mentoring to 400 additional youth through C2C, sports, after-school and mentoring programs. Our Juvenile Justice Project Coordinator, Amy Williams, was able to expand programming to incarcerated youth in IYC Warrenville. Our Street Outreach and Resiliency Services teams grew and continue to walk life, love and mourn with youth and their families. Our youth-led Pan de Vida food pantry distributed fresh produce to over 2 million people. Most importantly, our staff love people deeply in the name of Jesus.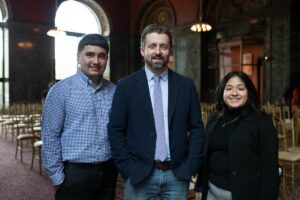 "So thankful for our amazing staff and volunteers who work tirelessly to love on the young people of Chicago. We did this together. Love you guys!," said Matt DeMateo, Executive Director.
We are also thankful for everyone who supports the work, prays, volunteers and gives. We are excited to see all that is going to happen in 2022!