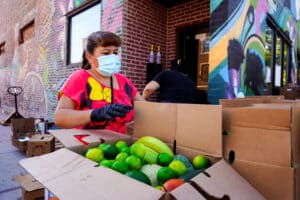 22 years. That's how long our 10-year food pantry volunteer, Maria Delgado, waited to finally be granted U.S. Residency status this year. Maria has gifted her time to our Pan de Vida food pantry for many years, from the early days as a ministry of New Life Community Church-Little Village until now, as it became a larger operation under New Life Centers at the beginning of the pandemic.
As soon as Abelardo Colin, Director of Food Distribution, found out the great news, he encouraged Maria to apply for a job at New Life Centers. Maria Delgado is officially joining our team as paid staff!
"I am so happy! This is home for me. They loved and cared for me. I am very excited to have this opportunity," said Maria.
New Life Centers is so happy to have Maria on our team as she offers our community her beautiful smile and contagious positivity every week.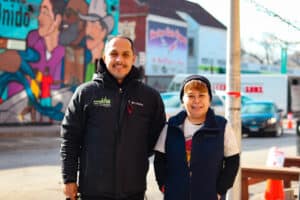 Maria Delgado first arrived at New Life Community Church in Little Village, which shares building space with New Life Centers, as an Aerobics instructor for community members. She quickly became popular among mothers in the Little Village community. Her love for neighbors motivated her to use her free time to serve them and share the love of Jesus.