New Life Centers GEMS program has been blossoming in so many areas. Some of the ladies from the program have started their first year of high school or their first jobs; while others have been the first to attend college in their families. Lots of big WINS!
During the fall and summer, the girls at GEMS were consistently taken out of their comfort zone by participating in new activities like rock climbing, kayaking, white water rafting, Bulls games, school plays and getting to know their community in a different lens. It's been a great experience to see them extending a helpful hand and coming back to help lead and serve at New Life Centers.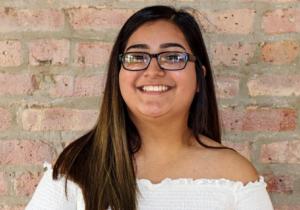 One of the biggest highlights at GEMS is the hiring of our first youth ambassador! Steph has been mentored with NLCENTERS for about 4 years and has been very giving, loving and hands on with many of the projects that have come her way.
Steph is always ready to help and support the GEMS girls, other youth, and families from the community. In order to serve others, she stayed with GEMS as a volunteer for a year after graduating high school while working another job and keeping her education options open for college. It's been an encouragement to see how God has been working in Steph's life as a GEMS youth ambassador and how she has been growing into more opportunities. She brings great suggestions and strategies to help heal her hood of Little Village. Steph is a game changer for GEMS with all her love and kindnesses that she has shared!