Basketball Apprenticeship Program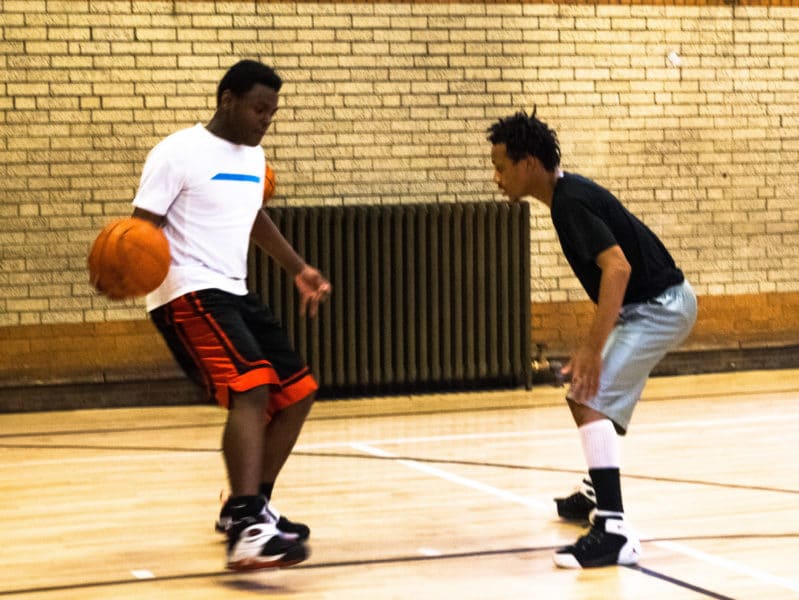 Open Gym has been a staple at the Humboldt Park location for generations. CrossOver expands that tradition of open play basketball, incorporating greater elements of mentoring, career preparation, and life skills training for participating apprentices. The program envisions each participant crossing over from adolescence to adulthood, successfully finding a life full of purpose and passion. Youth apprentices are awarded stipends for their participation through program funder After School Matters, who further ensures that CrossOver follows the very best research-proven practices in the field of youth development.
CrossOver currently operates two evenings weekly during the school year, with dozens of youth citywide applying for the 15 available seats in this program. Summer CrossOver expands to four days weekly, with greater stipend awards available. All Chicago Public School high school students attending a neighborhood school are eligible to apply.
Interview about CrossOver with Derae
"CrossOver was different. It gave me the opportunity to be around new people and taught me how to lead and speak, which really helped me out in my professional life. Now I teach my youth how to speak and lead in front of crowds. Not a lot of people know how to do that, but CrossOver helped me learn that and now I am teaching others to do the same."
Derae Taylor, a young adult from our west side community, apprenticed with CrossOver 2 summers ago. He credits the CrossOver program and staff for shaping and inspiring him to be who he is today.
Derae currently works for St. Angela's after school programs working with youth from Austin doing exactly what he did at CrossOver. He has returned multiple times to speak to our current apprentices and we will be partnering in the next few months to host a basketball tournament in Humboldt Park, a location just minutes from Derae's own community.